Chino Decorative Concrete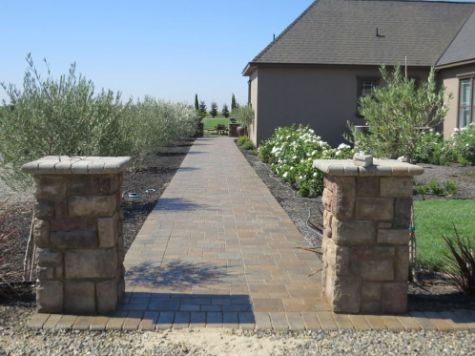 The landscape around your home or place of business can be every bit as important as its interior. First impressions tend to stay in the memory for a long time, and they don't always start with a smile or a handshake. Sometimes they start right out on the front walk before a visitor even sees your face. Nor are such impressions limited to walkways and driveways. Showing someone your patio for the first time? Or perhaps your swimming pool? For all of these and more, the use of decorative concrete can go a long way toward providing your property with a new aura of artistic merit. Here to help you with that task is Chino Concrete & Masonry.
Give us a call at (909) 443-2092 for more details and have a free quote. Below is a little more information about how we can meet your needs.
What is Decorative Concrete?
Decorative concrete means basically what it sounds like:  It is concrete that is, simply put, decorated to enhance the appearance of the structure it forms or surrounds. These structures include anything you can imagine concrete being used for. Things such as fireplaces, retaining walls, countertops, outdoor kitchens…and yes, walkways and driveways. Decorative concrete not only does its job as a sturdy form of building material but offers a pleasing appearance as well.
Turning plain concrete into this more eye-catching version of the same involves the use of material that can be applied during the pouring process or after the concrete is actually cured. Some of these materials include stamped concrete, concrete steps, acid staining, and concrete polishing.
Stamped Concrete
This is the process of applying texture and color to concrete in order to capture the look (and feel) of natural, more expensive substance. The technique is immensely popular for its price-saving mechanic, as well as the highly satisfying results it produces. It is also extremely versatile in terms of replication and usage. Stamped concrete from our expert contractors can be made to resemble just about anything found in nature. These include but are by no means limited to stone, brick, cobblestone, slate, wood, shells, and more.
Acid Staining
Acid staining involves no dyes or pigment coloring. Instead, it relies on a chemical reaction, typically through the use of water, mineral salt, and a small amount of muriatic acid, which are added to the concrete surface. A chemical reaction with minerals already present in the concrete creates colors in shades of brown and green. The stain is then scrubbed with alkaline soap to neutralize the concrete and remove any stain residue.
Acid staining by Chino Concrete & Masonry produces rich, colorful effects at a sensible cost. And because of its tendency to mottle the surface, it is a popular choice for achieving the look of marble or granite floors.
Polishing
We can also polish your concrete to a glossy, shimmering shine by the use of mechanical grinders. The look is achieved by multiple passes of a grinder that is fitted with a diamond pad. The polishing process may be partnered with acid stains or concrete dyes for an even more striking effect.
Shown above are just three of the methods we employ when Chino decorative concrete comes to the forefront of your needs. All can provide wondrous results depending on the look you're going for along with the surroundings in question. At Chino Concrete & Masonry we always accomplish the task using the most suitable tactics for any given inspiration.
When it comes time for concrete solutions, don't hesitate to give us a call at (909) 443-2092 and get a free estimate.