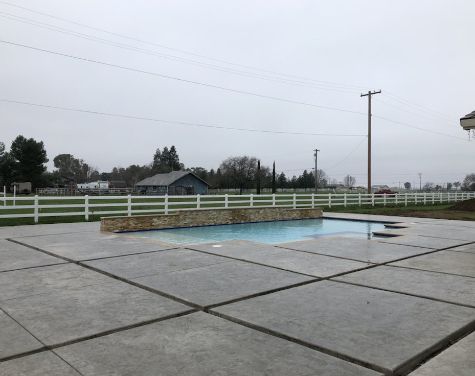 CHINO CONCRETE AND MASONRY

Concrete Contractor And Masonry Contractor – Chino, California
I have never had a retaining wall before, so I was not sure what to expect. I called up the company and they were there within two days with all their equipment ready to go. They did everything for me, from digging out the dirt to laying down the blocks. I am very happy with how it looks now!
Michael Zaleski
2021-07-13
I was so happy with this company. They poured a beautiful driveway and walkway for me, and the job was done quickly. I would recommend them to anyone. This concrete company worked exceptionally well on our concrete driveways, walkways and concrete patio. In addition to their excellent workmanship they are also very honest and trustworthy. We definitely want this concrete contractor back again for future jobs. Highly recommended if you're looking for concrete pouring services.
I had a wonderful experience with Chino Concrete & Masonry. The contractors did a fantastic job and tidied up everything after completing the driveway.
They do quite a bit here, so I won't go through a list, but I had them work on my patio steps. Wanted concrete unlike the brick stairs we had. They did the job like the pros they are. Very satisfied with their work.
If you're living in or around Chino, chances are you're here because you're on the lookout for a Chino concrete contractor. Or perhaps it's stone or brick that interests you. Whichever the cause, we have some good news:  You've come to the right place. We've been in the concrete and masonry business for years. Our clients love our work, and we mean to keep that reputation going. So again, thank you for visiting. It's our pleasure to help.
Give us a call at (909) 443-2092 for free estimates today.
Concrete and Stone Masonry Experts to Trust
It will never do to sit here and blow a lot of hot air about how great we are. As for why you can trust us with all of your needs in the stone and concrete business, we'd rather keep things simple. Or better yet, let our work do the talking. That's how the greatest artists give voice to their passion—with the work. And when you call us you get hard-working professionals right at your door. Or driveway, or patio, or pool deck. The proof's in what you see.
You've probably admired some wonderful examples of concrete work. You may even have paused to notice that it seems to be getting better all the time. That's because the material has really come into its own. These days we can do so much with concrete every section of your home or business can be made completely unique by its function. This uniqueness extends to color, design, size, and surface.
Dial (909) 443-2092 today to get free estimates.
We begin with a feature no Chino homeowner hasn't wished for at one time or another. Patios are quintessential for barbecue parties, family gatherings, or just a little relaxation time at the end of the day. Choosing to construct that patio with concrete deploys a nearly countless array of incredible styles.
Get in touch by dialing (909) 443-2092 today.
Chino stamped concrete service is the process of imprinting designs or surfaces into uncured concrete to give it aesthetic appeal and functionality. With this technique, we can even create accurate duplication of natural stones such as cobblestone, brick, or travertine. Concrete pavers are crafted in advance to a client's specifications. They arrive at the site cut, colored, and ready to place.
Already have a patio but it could use a bit of touching up? We also do concrete resurfacing and refinishing. With a concrete overlay, we can give your patio a whole new face without tearing up what's already installed.
We mentioned functionality up above as a part of our stamped concrete service. For pool decks, it comes into play quite prominently. You don't want a slippery surface for wet feet, or a sizzling hot surface for bare, dry feet. For the former, we often apply a broom finish, which is the process of raking stylish little grooves into wet concrete that dry and become safer for walking.
Salt finished concrete works much the same way; rock salt is sprinkled onto the surface, then sprayed off after everything dries to leave tiny pockmarks that are easy to tread upon.
For those hot, hot surfaces that gleam so temptingly under the California sun, we can apply a treatment known as a cool deck or cool decking to keep foot bottoms comfy on even the most sultry days.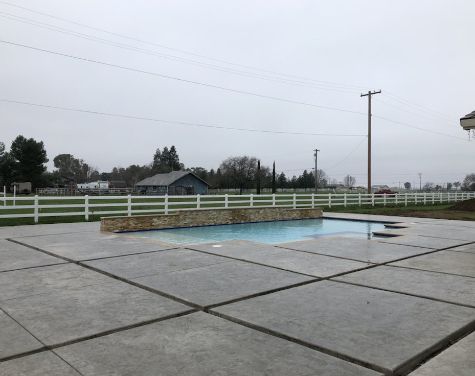 The driveway of your home or business might curve gently around cultivated landscape before depositing its users onto a spacious parking area. Or perhaps it leads straight into a garage or under a canopy. No matter what the case, our highly skilled team can provide just the right style of decorative concrete to match or contrast the surrounding property.
As we mentioned above, our stamped concrete service gives lots of cosmetic options that are certain to please. Your driveway can be made to look like real wood, brick, flagstone, or just about any surface that suits you. But did you know that colored concrete is also about choices, choices, and more choices? Oh yes. That's because the colors at your disposal are near-infinite. We can even mix hues to arrive at the shade of your liking.
As with decks and patios, your driveway can also be decorated with concrete or stone bordering to provide it with a nice, handsome frame. All of these features together or in singular fashion create excellent curb appeal that will have your neighbors oohing and ahhing their praise.
With standard CMU blocks, we can erect quite an imposing wall around your property. Not everyone pursues this look, of course. Indeed, most clients prefer a more friendly wall that's low, sleek, and attractive while at the same time protects its owners with a gentle hand.
Cinder block walls or block walls, can be amicable as well as forbidding. Often they're decorated with curb appeal in mind. This same kind of wall is also commonly used around gardens or pool decks. Chino Concrete & Masonry builds them to your specifications of color, shape, and function.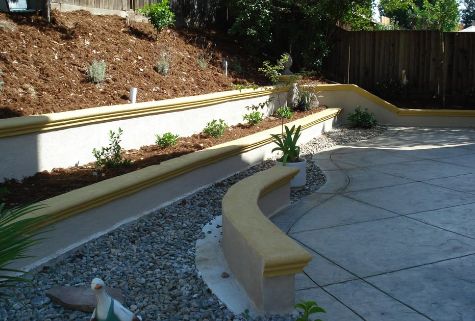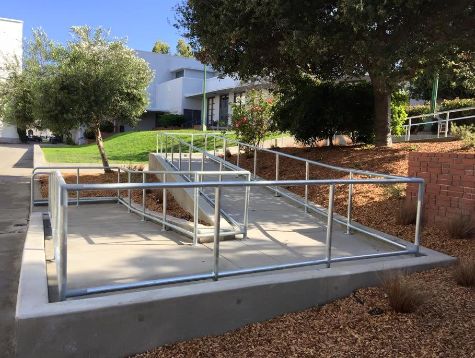 Preparing your concrete for resurfacing can be just as important as pouring it fresh. A rough surface must be made smooth for overlaying. For this, we perform concrete grinding through the use of highly abrasive floor pads rotated by machine.
Once the concrete is smooth a new finish can safely be installed over the top. We also repair concrete that's damaged or broken; in fact, if the affected area is made of concrete pavers, the matter is simple as lifting the damaged paver out and replacing it with a new one. 
Looking to have some concrete countertops installed? Look no further, because we cover it all right here. Be they for your kitchen, bathroom, patio, or wherever you like, Chino Concrete & Masonry does countertops with the expert quality found everywhere else under our scope. And those walls we talked about can also come in the form of retaining walls to hold back soil on your property whilst looking dapper in the bargain.
We handle everything concrete can do, which is a lot, and we handle it like no other contractor can. It helps that we love what we do. It also helps that we have multiple crews, some even consisting of concrete guys that have run their own company, like concrete contractors tampa, one of our crew leaders was a lead member of that company, so we bring our expertise from around the U.S.
A job well done is a job done well for every customer who calls.
CHINO BRICK AND STONE MASONRY
For pure authenticity, in your home or on the landscape, nothing quite matches stone and brick. There is something instantly recognizable as the real deal about these materials. And yes, we know the craft well.
We like to praise the versatility of concrete, but natural stone is no slouch in this department either. Apart from a somewhat more limited color palette, stone can pretty much do it all, and with pure style.
Stone walls cast an aura of the distant past over all they survey; we can build them to curve around the border of your property or garden; a rustic gate squeaks at one end; near the other, water flows from a woodsy creek; they can frame stairs or contain flower beds; all and so much more are possible
Stone veneer

is attached to concrete backing on a vertical surface to provide the iconic look at a somewhat more suitable budget, as these are thinner, more delicate slates; use them for walls or fireplaces, or anywhere you look but do not walk
Paver stones

arrive at the site already cut and ready to place; unlike veneer, they are plenty tough and can indeed be walked on; you'll love them for decks, patios, and even stairs
Stacked stone

is used in much the same way as veneer, but is not attached to a backing; it is all its own substance from front to back, but since it is stacked, can only be used on vertical projects
Stone pillars

are another feature we like working with, as their commanding visage enhances a doorway like no other amenity in the field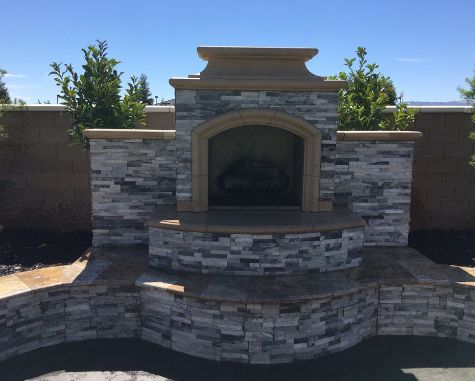 Here it must be said that everything we do with stone we do with brick.
Brick pavers

are solid and typically laid flat on the ground to endure traversal; the crisp, clean beauty they provide for things like driveways, patios, and stairs is called upon frequently by enthusiasts
Brick walls

get the same kind of demand, but are more often built with regular bricks; these walls can be low with a concrete surface on top for the placement of decoration, or higher for more security or landscape support as performed by other kinds of retaining walls
Brick fireplaces

need no description; they've been written about, painted, and praised for centuries; our brilliant team of professional masons can install an outdoor fireplace on your patio or pool deck you'll be enjoying for years to come
A retaining wall does two things:  supports a sloping landscape whilst making the soil more firm for cultivation, and looks great doing it. You can have one of these built of brick, stone, or concrete. A simple call to us gets the wheels in motion. We'll set you up with the perfect style of the wall for the needs of almost any softscape.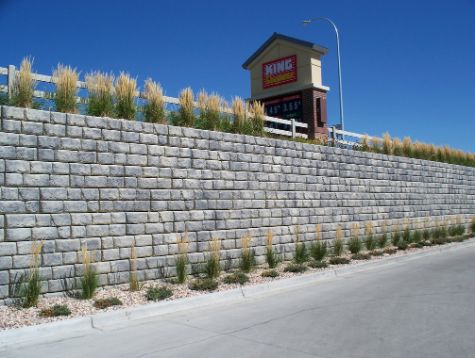 Other Chino Masonry Services
And for the needs of you, our client, we come through with all of the above and more. Tuckpointing of brick mortar gives the appearance of crisp, tight joints between the bricks to make that wall or fireplace look even more splendid. We do kitchen and bathroom countertops for new home builders or homeowners seeking a fresh indoor sheen. And what about that outdoor kitchen? Ah yes, we've plenty for that, too, including countertops, flooring, and block fireplaces.
Chino Concrete & Masonry employs just the kind of experts you need for a high number of hardscape projects. We've added a few people recently who owned their own company, including our newest foreman who comes from Concrete Red Deer.
Give us a call today at (909) 443-2092 for free quotes.
Chino Concrete & Masonry is a concrete work contractor that serves several cities in California. If you live in one of the following towns, we can help with all your concrete and masonry needs: 
Pomona, Ontario, Rancho Cucamonga, Upland, Montclair, Claremont, La Verne, Eastvale, Norco, Corona, and Diamond Bar. Our team has years of experience. We have been part of the communities we serve for many years so rest assured knowing you are getting quality service from us. 
If you need any type of concrete or masonry services feel free to give us a call at (909) 443-2092 or message us through the contact form on this page.
Contact Chino Concrete & Masonry For More Information