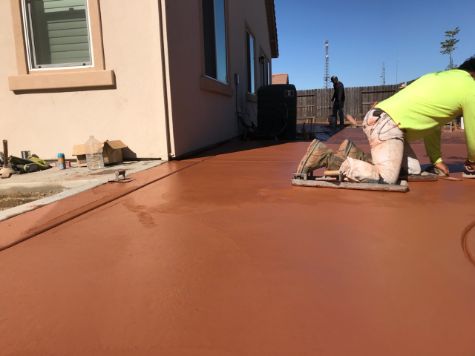 When it comes to giving the landscape around your home or business an appealing element that turns heads, colored concrete should, without doubt, be one of the boxes on your checklist. This unique method of replicating the hue and texture of natural surfaces like slate, brick, and cobblestone can help capture the perfect atmosphere your vision desires. Your best source in town is Chino Concrete and Masonry, where we've honed the craft of decorative concrete down to a virtual science.
To let us show you what we mean, give us a call at (909) 443-2092 with free estimate. 
What is Colored Concrete?
First, let us tell you what it isn't: Colored concrete is not simply concrete that has been dyed or painted. Instead, the technique involves grinding oxidized metal into a pigment powder, which is then added to the concrete mix. The "mix pigment" method of coloring concrete is popular for being resilient to harsh weather and UV rays, as the color is mixed with the concrete before it is even set. It will not fade over time.
Stamped or stenciled concrete is another way to color concrete that not only provides a natural look but patterns and textures as well. For these very reasons, our clients love to take this route when it comes time for landscaping. Nor can we blame them!
Making that Delicate Choice
You may not be certain of which color might go best with the building it needs to supplement. To get started, take a look at the colors that already make up the landscape, including the building itself. Find out which other colors will harmonize with these. And don't forget that the experts at Chino Concrete & Masonry will also know just what works with what. Making your home or business look beautiful is exactly the goal of our game.
Advantages of Using Colored Concrete
There is more than one benefit of using colored concrete for your landscape. For driveways, it's an efficient way to mask stains from oil or grease. A dark-colored driveway makes these stains more difficult to see. And as mentioned above, the coloring process renders your stained concrete patio more durable to driving rains or driving heat. But of course, the greatest delight on offer comes from aesthetic appeal. Colored concrete gives our clients so many choices of hues and patterns to consider, without enduring the higher costs of natural alternatives. It's all wide open for development.
Just don't get to thinking that you're in over your head all alone. Chino Concrete and Masonry are staffed with expert Chino colored concrete contractors to help you through the entire process, step by step. We have practice, experience, and love for the craft.
Give us a call at (909) 443-2092 and have free quote.