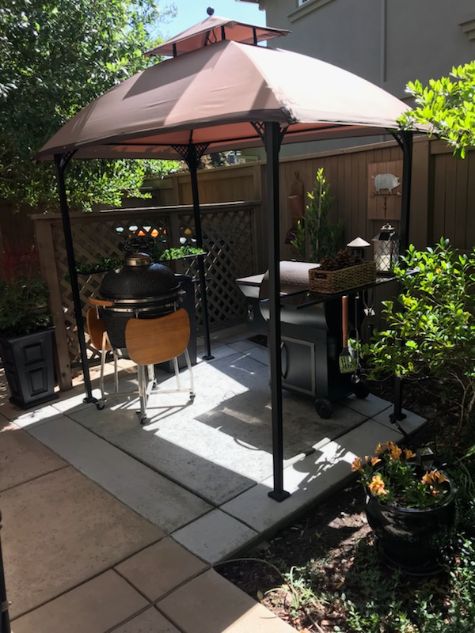 Enhancing the landscape around your home or business can be a daunting task. This not necessarily because of the difficulty, as professional contractors are always readily available to assist you, but for the seemingly endless choices at your disposal, especially when it comes to concrete and masonry work. With that said, should you elect to have a flagstone patio installed, there's a good chance your decision will prove to be sound. Because of its versatility, flagstone can be integrated into just about any design scheme and time period. Its patterns are diverse, its colors, the same.
Having a Chino flagstone patio installed on your property is as easy as calling Chino Concrete and Masonry at (909) 443-2092.
Flagstone Patios Design
Flagstone is a flat stone that is typically cut into rectangular or square shapes, though other shapes can certainly be obtained. The stone is actually quite easy to cut and trim. All it takes is a hammer and chisel. Just don't forget to wear goggles, as these stones expel sharp pieces that can be dangerous. The three most common colors for this stone are red, blue, and buff. Each gives a different feel to the environment it occupies.
Flagstone patios installed in sunny climes are often brown in color (buff) for a sun-baked appearance. Patios using this color are often roomy as well as if in an effort to fully embrace all that blue sky overhead. The stones may slope to a retaining wall or gather around a fire pit for after dark barbecue parties.
Red Flagstone Patios
Red flagstone patios are absolutely great for homes or businesses located in a more wooded area. Surrounding trees really enhances their "magical cottage in a cozy glen" aura. Concrete Patios using red flagstone are often complemented by fountains, rock walls, and witch hazel or evergreen shrubbery.
In medieval times, European castles used blue flagstone for floors both outdoors and in. We're not certain you're looking to carry things that far, but as patios go, blue flagstone most certainly achieves the medieval look. This choice also goes very well with concrete steps chiseled to resemble natural stone which starts with concrete pouring. And if your patio happens to be near a swimming pool blue flagstone will look amazing.
Hire Chino Concrete and Masonry Pros
Whatever your choice for flagstone patios, Chino Concrete and Masonry is here to provide you expert service for your hard-earned dollar. The keen instincts of our experienced contractors will get you just the right look for any environment. Call us today at (909) 443-2092.