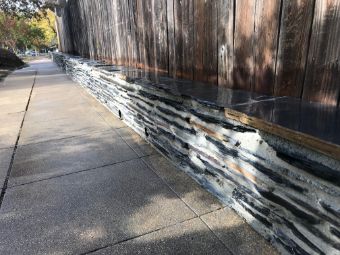 Stone veneer is a thin layer of stone applied as decorative material on another material that is not meant to do the function of stone; load bearing. It is a simulated stone or a stone cladding on building or other structure. Stone veneering may be for internal or for external structure. 
A direct fixing system of veneering adopts cement or mortar bonding between the backside of the stone veneer and the substrate wall. Besides, other methods of veneering are undercut anchoring, kerf, and dowel. We at Chino Concrete & Masonry have the expertise and skilled hands to perform the stone veneer in Chino that looks like real stone. For further details, you may contact us at (909) 443-2092.
Stone Veneering Versus Stone Siding
Both have the common objective of providing decorative and protective covering to the interior and exterior walls of a home. Stone siding is mostly used on the exterior to offer a more natural look. Most homeowners prefer plastic cladding manufactured from PVC resin or brick siding. Flagstone is used in its natural form, as veneer, Natural stone was costlier because of mining, cutting, and transporting. Stone veneer is often called faux stone. It is made from Portland cement, artificial or natural pigments, or dense polyurethane by pouring the same into prepared molds.
Natural Stone Versus Real Stone
Real stone is quarried from the earth from which Natural Stone Veneer is made. After quarrying from the earth, the large pieces are sliced into thinner profiles for making veneers. On the other hand, manufactured or cultured stone veneer is designed to resemble natural stone. Cultured stone is typically made from concrete and aggregate materials that are pressed into molds. Natural stone veneer is associated with imperfections, tonal and texture variations. However, both have pros and cons.
Pros & Cons of Natural Versus Manufactured Stone Veneer
Appearance
Due to the advanced technology, manufactured stone veneers can look aesthetic and realistic, particularly from a distance. You can get a wide variety of patterns, styles, and colors. But, it still lacks the tag of the authenticity of natural stone. A natural stone veneer is unique and unrivaled.
Cost
The difference in price is not that high as perceived. Transpiration cost for both is almost the same. The installation cost does not differ much. The maintenance cost of natural stone is less compared to its counterpart though it is labor-intensive.
Durability
Natural stone has less porosity. Hence, it is more durable than the manufactured stone that can deteriorate with time, particularly when exposed to adverse natural elements such as sunlight, rain, wind, and dirt. However, a stone veneer is the best alternative if you want an economical option.
Versatility
Both are highly versatile. Manufactured stone veneer can be fixed to a variety of substrates such as a wood frame or masonry. Harsh chemicals can have adverse effects on the manufactured stone veneer.
After considering various aspects of both types of stone veneers, you can make a decision based on your choice and budget. We at Chino Concrete & Masonry have the facilities and technically-trained workforce to make both veneers look alike. For further details, contact us at (909) 443-2092.