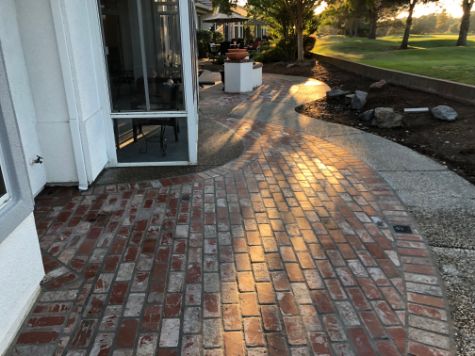 Patios are essential in any home, and they play an important role in your home's overall aesthetics. But stamped patios are the real deal. Stamped ones come with several pros over plain ones. Plain patios are now a thing in the past as many homeowners are going for stamped ones. Stamping gives the patios a whole new look. A patio contractor with expertise and experience is what you need if the patio is to be amazing.
A Chino stamped patio is guaranteed to transform your home only if installed correctly. With an experienced patio contractor like us, you are sure to get an amazing patio. Give us a call today if you need this service.
Our number (909) 443-2092 is also open for inquiries and get a free estimate.
Top Stamped Patio Contractor
Stamped patio is one of the best options if you need to upgrade your home. Our concrete finisher is available and will start working on your patio once you give us a call. Here is why you should go for a stamped patio instead of a plain one.
Cost
If you are looking for a cheaper design of decorative concrete for a patio, then this option will work for you.  Every home owner wants to spend less but gets amazing results. That's what you should go for too. Stamped concrete costs less than many outdoor improvement options. Why spend more while stamped concrete can get you equally amazing results at a lower price.
A cheap option and an affordable contractor are the only things that can save you from the expensive home improvement costs. We offer the most affordable services in Chino. We know how disappointing, expensive services can be, and that's why we work with your budget to get you an amazing patio. Look no further as this type of decorative concrete is what any home owner would want.
Performance and Durability
Concrete is the most durable material we know in the construction industry. Stamping gives concrete extra strength and durability properties. With this type of patio, you are looking at ten years of zero concrete repairs. Its performance is also excellent. If installed and maintained well, you won't see cracks and sinks before ten or more years.
At Chino Concrete and Masonry, we do professional work. If hired, our work is guaranteed, and it will be a while before we come back for concrete repairs.
Low Maintenance Costs
With just yearly sealing, a stamped concrete is good to last for decades. Sealing prevents your patio from cracking and sinking. Unlike other options where you have to purchase maintenance tools, and products stamped concrete only needs wiping. After we have installed a stamped patio for you, we can do the yearly resealing at an affordable price.
Give your home an upgrade today with an amazing stamped patio. Let us install it for you to ensure it looks exactly the way you wanted. With our experienced Concrete finisher, you can be sure to get an amazing patio.
Reach us today on (909) 443-2092 for the best services in Chino and have a free quote.