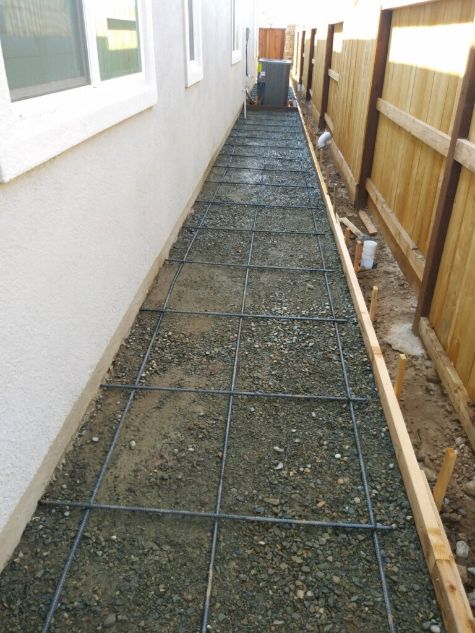 Most of us know full well what concrete pouring is. When we hear the words, our minds automatically conjure up a picture of thick, gray fluid flowing from a revolving drum, or running down a track into an area designated by the client. The basic idea one has of concrete pouring does not differ much from, say, filling a glass with soda pop, or a sink with dishwater. But the truth is different, as the process does, in fact, require delicate timing and pinpoint focus. It requires professionalism on the level of that found at Chino Concrete & Masonry.
It is the professionalism you will find when you call (909) 443-2092 and get free quote.
More About Concrete Pouring in Chino, CA
Excavation
Not only do our contractors know their work well, they never rush a job that produces shoddy results. The area to be poured with concrete is first prepared for the change to take place. All grass, rock, trees, shrubbery, or old concrete is removed, right down to a bare patch of soil. This soil is then tested to make certain it will maintain formation after the concrete is poured. Soil that fails this test can cause your concrete to crack. When problems like this are encountered, we usually advise replacement of the soil.
Subgrading
We then prepare a subgrade so forms can be set. This involves ensuring that the land will not shift after poured concrete cures. Soil particles are forced together to make the ground firm and resilient. This step will also give the ground stamina to hold the weight of the concrete for long periods of time.
Setting Up A Frame
The frame, or form, will maintain a specific shape for poured concrete. They are typically made out of wood, metal, or plastic. These frames are also used to achieve the necessary thickness for the project.
Pouring The Concrete
Now comes time for the main event. Meticulous care goes into mixing and manipulating our concrete in just the right way for the job at hand. It is kept from hardening too soon by use of those revolving drums we mentioned earlier, most times in tandem with a ready-mix truck that can pull right up to the work site for an application.
The Finishing Touch
Before the concrete dries (a period of about two hours is usually what we have), the surface can be altered to produce different, decorative designs or finishes. Once the concrete is cured, the frame is removed, and protective sealants are applied to shield the work from harsh weather or heavy use.
When it comes to fragile tasks like the pouring and setting of Chino concrete pouring, Chino Concrete & Masonry promises the right touch that gives you perfect results, time, and time again.
Experience our finesse with the craft by calling (909) 443-2092 today with free estimate.