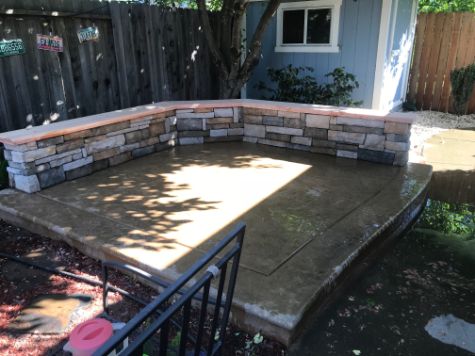 There is probably not enough room on this page—or indeed, a thousand pages—to educate one on the countless uses of something so common, so every place, that we walk past them, under them, on them, over them, with barely a glance to notice they are even there. No, there is perhaps no way to catalog the many uses of the concrete slab. Short of watching an old episode of The Flintstones, it's hard to know where to even begin.
Contact us at Chino Concrete & Masonry at (909) 443-2092 for installations of concrete slabs in Chino.
Great Quality Concrete Slabs Chino, CA
How can I use concrete slabs for my home or business?
Concrete slabs have been used for buildings and landscapes since the time of the ancient Mayan city of Uxmal. Or shall we say, at least that long? They provide a strong, sturdy foundation, and their malleable properties allow for just about any size and shape the job at hand calls for. Having said all that, we ask:  What is the job you would like done? Because with concrete slabs it's really hard to find where we "hit the wall" so to speak.
Those walls can include concrete retaining walls, garden walls, and block walls, just to name a few. I grew up in a house with a huge block wall that connected to concrete steps and concrete patio. Both wall, steps, and patio lasted for as long as I lived in that house. And speaking of patios, concrete poured around your pool makes for a spacious lounge area that can be finished, stamped, and colored to your absolute specifications.
Nor are walls and patios the only thing we do. Concrete slabs are where it all begins for landscaping features like concrete stairs, walkways, and driveways. And as with any concrete installation project, we can finish those features for you via coloring, stamping, staining, or a host of other decorating techniques.
For home renovation, you may wish to employ concrete slabs in some places that were not initially constructed of such. This often works out incredibly well, especially in parts of your home that are beginning to age and could use replacing with something more durable. For instance, wood flooring that has started to warp or rot can be fully swapped out for concrete which can then be decorated to stunning beauty.
Benefits of Using Concrete Slabs
"Thermal mass" is the term used to describe how much potential a material has stored and release thermal energy. Concrete slabs tend to possess a high thermal mass, which means they can maintain the indoor comfort of you and yours by radiating or absorbing heat.
Durability is another asset we make certain you can count on, as we correctly design and fit every slab for your project with faultless professional discernment. Years of experience give our contractors the know-how you expect from the best in the business.
Concrete slabs are termite resistant when their installation does not succumb to shrinking or cracking. The same experience mentioned above assures that this will always be the case. Jointed masonry is treated to repel termite infestations, as well as the edges of the slab.
Above are just a few of the things Chino Concrete & Masonry can do for areas in and around your home or business. We shape, install, and decorate concrete for projects big or small, short, or tall.
To get started on what we can do for you, dial (909) 443-2092 and get free estimate.