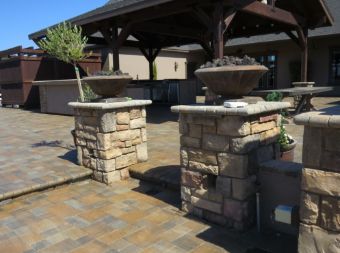 Besides being centuries-old stone masonry is still widely used today in the construction industry. Being a technical type of masonry, it requires experts with enough experience. This is the only way to achieve satisfactory results. This type of masonry is still popular thanks to its ability to aesthetically improve your home. If you are looking for an expert for your stone projects, then this is the place to find one.
At Chino Concrete and Masonry, we have the best quality of stone masonry in Chino who has years of experience.
Give us a call today at (909) 443-2092 with free estimate and we will have him working on your stone projects.
Hiring the right contractor is necessary for this type of masonry. There are many contractors in Chino, but the hardest part is knowing who is the right one for your project. We came up with a few useful tips on hiring the best contractor. These are the most important things you should ask before hiring a contractor.
Cost and Payment Schedule
A good masonry contractor should always give you a clear payment schedule and cost. Always talk it out with the contractor if the schedule they suggest doesn't work for you. A reputable concrete contractor should be open to discussions and possible modifications to the payment schedule. If you can't reach an agreement with the contractor, it's wise not to hire them.
If you need any concrete services in Chino, we are the contractor you should call. Our services are affordable and quality. Since we value customer satisfaction, we are always open to discussions with our customers and let them tell us their expectations.
Ask for Insurance
Any contractor should be insured. It is important to hire an insured contractor since one without insurance is a risk to work with. Firstly, working with a contractor who isn't insured is an offense, and you may be fined or jailed. Secondly, in case you are working with a contractor that isn't insured and their stonemason gets injured on your property, a claim will be filed against you.
Avoid such problems by hiring an insured contractor like us. We have all the necessary certifications, and we always let our clients have a look at the certificates. With us, for any concrete services we offer you, there is insurance.
Are They State Certified?
A state certification means a contractor has complied with all the state laws; hence they are likely to be trustworthy. You shouldn't hire a concrete contractor who doesn't have all the necessary state certifications. Hiring such a contractor is a state offense that attracts jail time and fine. It is your right to ask for all the necessary credentials before hiring a contractor.
References
References help you ensure the contractor you are hiring has a good track record. Every contractor must have references to prove clients who previously worked with them were satisfied with the services. If a contractor doesn't have references, it might be an indication that they aren't that good or they lack experience.
Talk to us today on (909) 443-2092 if you need a good and trustworthy contractor and have free quote.