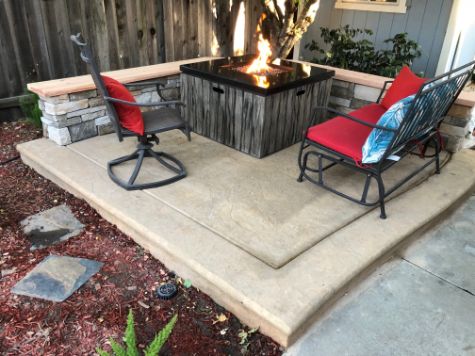 Fireplaces are one of the things that greatly contribute to the aesthetics of your outdoors. Outdoor fireplaces, if perfectly built, are able to make your outdoors attractive. Chino homeowners prefer outdoor fireplaces because they add value to their property.  Outdoor fireplaces blend perfectly with most landscapes giving your home a unique and lavish look.
If you want to increase your home's value then it is time you gave us a call on (909) 443-2092 to help you and get free quote.
At Chino Concrete and Masonry, we are an experienced concrete contractor trusted by many homeowners in Chino. Talk to us today, and we will get you a Chino outdoor fireplace.
A fireplace is a must for any homeowner that wants to transform their home. An outdoor fireplace comes with many advantages. For instance, with this outdoor fireplace, you can spend time outdoors, even in the cold seasons. When people are waiting for warmer days with a fireplace, every day is warm. We are the concrete contractor you are looking for, talk to us today.
Types of Outdoor Fireplaces
There are three types of fireplaces based on the materials used. These are concrete, stone, and brick fireplaces.  Let's take a look at each of them and help you choose the right option.
Concrete Fireplace
Concrete is a material that guarantees you strength and durability. Fireplaces built with concrete will certainly stand the test of time. A concrete fireplace is able to withstand harsh weather conditions and serve you for years. This is an option that will save you a lot of money since you won't be doing repairs any soon.
A concrete fireplace also lets you design it in any way you want. You can have it colored with a color of choice or stamped with patterns you like. Reach us and we will make sure you outdoors get a fireplace as soon as possible.
Stone Fireplace
Stone is also strong and durable, and it is a good alternative to concrete when it comes to outdoor fireplaces. Its beautiful texture and shape will give you a perfect fireplace that adds an aesthetic value to your outdoors. A stone fireplace is quite expensive to construct, but the beauty that comes with it makes it worth it.
Brick Fireplace
An amazing brick red fireplace is what you need for your outdoors. Bricklayers have the ability to transform your home.  Although a brick fireplace may not be as strong as a concrete one, it is guaranteed to last long, too. If you need a fireplace for your outdoors, Chino Concrete and Masonry team is your best choice!
Hiring a Professional Concrete Contractor
To get a perfect fireplace that will last longer, you need to have it built by professionals like us. We are experienced in constructing outdoor fireplaces, and you can trust us to build a perfect one for you.  We always advise homeowners in Chino not to try building outdoor fireplaces on their own. Doing it yourself will only lead to weak fireplaces that won't survive harsh weather conditions. Let us build it for you and make it perfect.
Call us at (909) 443-2092 with free estimate.