Ontario Concrete Contractor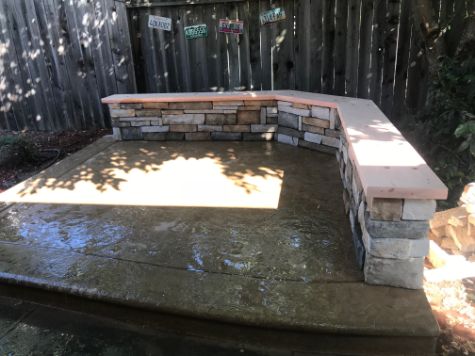 Some of the materials used by masonry contractors in Ontario come with their limitations, resulting in foundation failures. One of the most commonly used materials is concrete block. This is made of sand, Portland cement, and gravel. These ingredients are also used in the concrete, cast, or poured foundation. However, the two different materials have different sizes of gravel. In a typical poured concrete, there will be stones that have the size of gravel.
Call us at (909) 443-2092 with free estimate!
Hollow Cast or Poured Concrete
Foundations that are made of poured concrete are usually very solid. This is mostly because the plastic is dispensed into the foundation forms from a ready-mix truck. If the work is done poorly, it can result in hollow areas of the poured foundation. The concrete contractors use a special vibrating tool to ensure that this doesn't happen.
 A foundation that is made of concrete block isn't solid. To make the block walls more solid, the concrete contractor can fill the hollows with mortar or pour concrete with small pea gravel. The blocks should be filled with concrete with small gravel to enable it to flow into the narrow void.
Concrete Maintenance
Concrete is a very durable product. When it is properly poured, finished, and cured, it can last for a lifetime. While little or no maintenance is needed for concrete, several maintenance steps can prolong the concrete's lifespan. 
It is advisable to use a quality sealer. This can be used on the same day as the concrete placement, or it can be done one month after the concrete placement. When applied on the exterior, a sealer can last for one to five years, depending on the weather conditions.
At times, it is also advisable to clean the concrete surface using soap and water If your concrete will look good in the long-term. With regular cleaning, you can easily minimize the chances of discoloration and staining resulting from manmade and natural contamination.
Another way of protecting your concrete floor is by only working with a contractor who has experience in concrete pouring. An experienced concrete contractor will build the forms well without any bulges or waves. To avoid expensive repairs and maintenance, find a concrete contractor Ontario with proven experience in concrete pouring. One such Ontario concrete contractor to consider is Chino Concrete & Masonry.
You can call us at (909) 443-2092 for an obligation-free quote.