Eastvale Concrete Contractor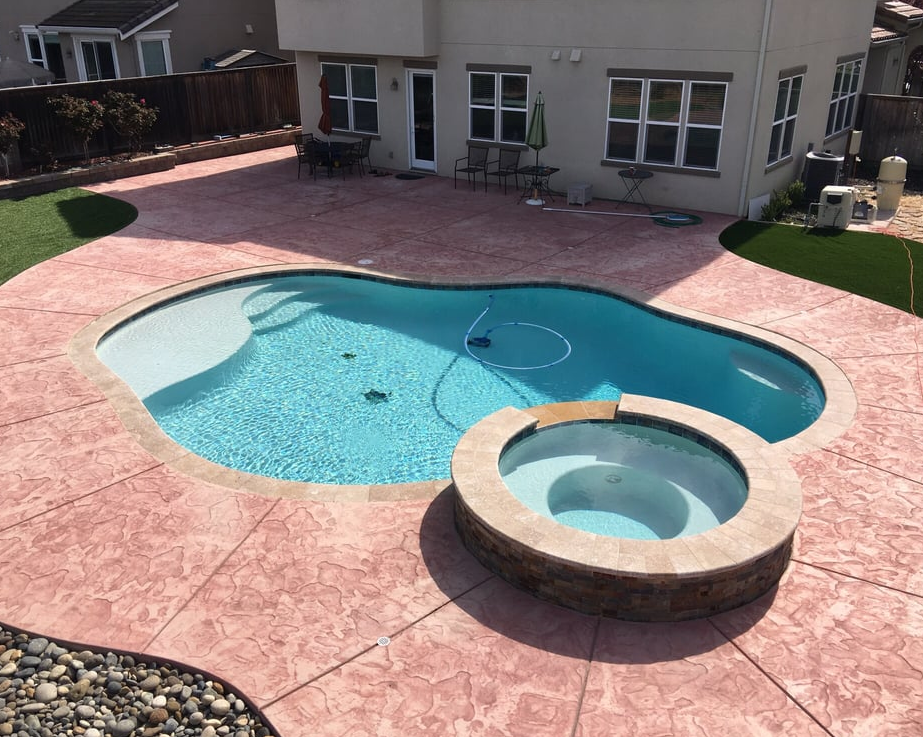 .A well-designed pool deck will enhance the usability of your swimming pool. To ensure that your pool deck in Eastvale serves the purpose, you will need to consider various factors such as your yard size, type of pool, budget, and local climate.
Call Chino Concrete & Masonry at (909) 443-2092 for free estimates.
One of the biggest considerations to make for your pool deck is on the material.
Choose the Right Material
The look of your pool deck should be dictated by various factors other than your taste. Bear in mind that users don't want a pool deck that will scald their feet. Therefore, you need to choose a heat resistant material such as a light-colored concrete or tiles. However, when choosing colors for your pool deck, ensure that it complements your pool ladder to create a cohesive design.
Also, pick a rough surface that will not get slippery when wet such as unglazed tiles or unpolished stones. Avoid materials that are very rugged as users will walk on the pool deck on their bare feet. Ensure that the material isn't damaged by water and chemicals such as chlorine. Some of the best materials are concrete pavers and stone. However, if your area is highly affected by snow, you should be careful when using concrete as asphalt can crack as a result of the freezing and thawing process.
Design Ideas for Your Pool Deck
Here are some material options for your pool deck.
Wood
A timber decking is not only beautiful but can be inexpensive to construct. However, you should bear in mind that you need to regularly seal or stain the wood to protect it from water damage. You will want to consider the maintenance when considering the cost of a wooden pool deck. If you need a material that doesn't need a lot of maintenance, you can ask your masonry contractor to use composite wood. While the material looks like normal wood, it is made of synthetics that look like plastic. These cost more as compared to natural wood, but it's worth the investment.
Stamped Concrete
This is an affordable way of finishing your pool deck. It will take the look of stone, wood, and slate but at an affordable price. This will create a textured and colored area around the swimming pool that will be a great choice for barbecuing and sunbathing. A stamped concrete is a great choice for homeowners with a big backyard that needs to be covered with a lot of materials. 
Decking on Concrete
You can combine between concrete and wood. Wood can be used on the space where tables and chairs are kept as it is comfortable to the feet. Concrete can be used close to the pool as it will not be easily damaged by water.
Mix Different Materials
If you are unable to decide on the best material, why don't you try to mix and match them? You can mix wood with matching tiles and greenery.
To decide the best design for your pool deck, you can call Eastvale, Chino Concrete & Masonry at (909) 443-2092 and have a free quote.